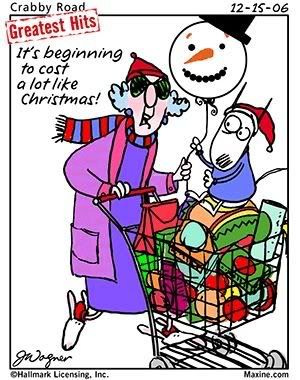 My daughter told me last night, "Mom, you sure can make a cheap gift look good". LOL!! she is referring to my office gifts. Now I don't have a big department at work, but nonetheless, it still costs money to buy presents for everyone as has been the tradition since I started working here. Money that I really don't have to splurge, mind you.
This year, I am giving refrigerator magnets and a big chocolate bar to all my co-workers. It is just a token gift to say I've thought about them. It's not expensive, but it's a step up from the candy cane stuck to a Christmas card. Not that I mind getting those, OK. I appreciate all the greetings I get at Christmas, even the half hearted ones.
Do you know people who hand out cards just because they think it is expected? So they get a boxful and dole them out to everyone they know regardless of if they even have said hi to them all this year. I don't have a need to collect many cards or presents, I don't have a need to give them out to everyone I've set eyes on either. I do like to acknowledge people who have in some way touched me whether it's a daily hello as I go by or maybe they asked about how I am sincerely not just in passing; it doesn't have to be a grand gesture for me to remember. I appreciate, in return, getting greetings from someone who took an extra minute to write another sentence to go along with their name at the bottom of the card.
BUT, I am also a great procrastinator. I'm working on that as well. So my cards are almost always late. Some years, they never made it out at all! But no matter, it is that thought that count. It does, right?